There are not too many things that I love in the summer more than a citrus treat. Living in Arizona, lemons are abundant, especially from neighbors with lots of citrus trees!
I ran across this recipe on
Today's Nest
and just had to try it! I made a couple of modifications, but nothing too major and it was perfect!
There's 3 parts to this...the shortbread "crust", the lemon filling and the crumbly topping. Combine them all and it is the perfect fusion of sweet and tart, of texture and smoothness.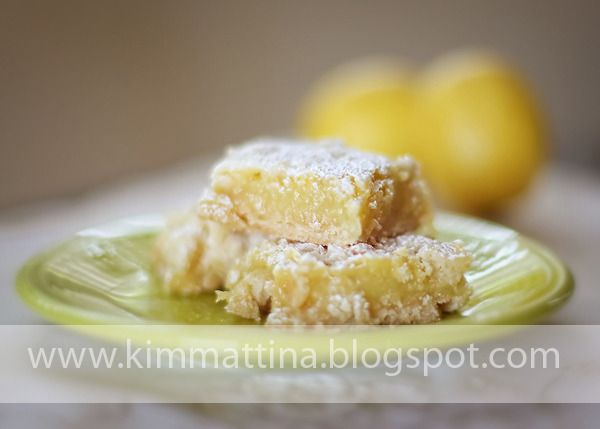 Here's the ingredients and instructions per layer:
Pre-heat oven to 350 degrees. Prepare a 9x13 pan by lightly greasing and dusting with flour.
Crust Ingredients:
2 sticks butter (1/2 pound) at room temperature
½ cup granulated sugar
2 cups all purpose flour
1/8 teaspoon salt
1 teaspoon Vanilla Extract
Crust Instructions:
Cream vanilla, butter and sugar together on medium low speed until light and fluffy.
In a separate bowl, mix flour and salt.
Add flour a little at a time to the butter mixture on low speed.
Mix only until flour is moistened.
Place crust mixture on a piece of parchment paper. Roll out with a floured rolling pin to form a nice rectangle. Transfer to your prepared 9x13 pan. (I placed the pan on top of the rolled out dough and flipped in over!)
Using the parchment paper (because the dough will be kind of sticky), press the dough out evenly to cover the bottom of the pan and up about ½ inch on the sides. The dough should be about ¼ inch thick. (Tip from Today's Nest: She uses a jar to roll it out evenly under the parchment. I tried that, too, and it worked great to make the crust even!)
Cut off the excess crust in a straight line with a sharp knife to make it even. Keep the scraps in a medium mixing bowl (you'll use them for the topping).
Place pan in freezer for about 20 minutes.
Bake crust in the oven for 15 minutes until barely golden.
Remove and allow to cool while you make the filling.
Lemon Filling Ingredients:
4 eggs at room temperature
2 cups granulated sugar
1 ½ tablespoon lemon zest (about 4 lemons)
½ cup fresh lemon juice (about 4-5 medium)
¼ cup plus 2 tablespoons all purpose flour
1 teaspoon baking powder
Lemon Filling Instructions:
Whisk all ingredients together in a mixing bowl until creamy. Scrape the sides and bottom.
Pour mixture into the cooled crust.
Bake for 20 minutes.
Topping:
Scraps from crust
About ¼ cup flour
2½ tablespoons cold butter
1 teaspoon sugar
Topping Instructions:
While your lemon layer is baking, place crust scraps in a medium mixing bowl.
Add flour and sugar.
Cut in cold cold butter (in small pieces) with a fork to make the mixture crumbly and stick together when pressed.
After your lemon on crust has baked for 20 minutes, remove from the oven. Lightly roll the topping mixture with your fingers and sprinkle it over the surface of the lemon. Some pieces will the larger, some smaller.
Return pan to oven and bake additional 10-12 minutes or until the filling is set.
Remove from the oven and allow to cool completely. Once it has cooled, place in the refrigerator until you're ready to serve. (You don't have to do this, but it helps to set the lemon a bit more and it tastes great when cold!)
When ready to serve, cut into evenly sized bars and dust with confectioners' sugar.