Giordano's in Chicago is THE place for stuffed pizza. Unfortunately, in my searches throughout Phoenix, I have not found anything that is even close to it. Not that wonderful biscuit-like crust, the natural sweetness of the tomato sauce, nor the creamy cheeses. Nope, nothing like it here!
So, if you can't get to Chicago, maybe it's time to do it yourself!
Most of the time, I make this as a 12" Pizza. One of the keys is to use a deep pan (2" deep, in fact). I ordered this
non-stick deep dish pan
from Amazon and love it!
Here's the recipe. Take your time and savor the experience. It will be worth every minute!
(Printer Friendly Version Here!)
Chicago Stuffed Pizza
The Crust:
3 1/2 C AP Flour (I used Pillsbury)
10 T Vegetable oil
3/4 t Kosher Salt
3/4 t sugar
3/4 t garlic powder
2 T warm tap water
3/4 C Hot Tap Water (It was 115 degrees coming out of tap)
2 t Red Star Active Dry Yeast
3/4 t sugar
In a measuring cup, combine 3/4 cups of hot tap water, yeast and 2t sugar. Set aside to allow yeast to proof. You'll see it get all foamy in about 5 minutes. While your yeast is proofing…
In the bowl of your stand mixer, combine the flour, salt, sugar and garlic powder. Mix together with a fork to distribute the ingredients. Add oil and slightly mix with the dough hook. Add water/yeast mixture. Mix with dough hook for 1 minute on low (I used speed 1). Stop to scrape down the sides and bottom of the bowl. Mix on 2 for 30 seconds. Add 1T of warm water, then mix on 4 for 2 minutes. Add additional water 1 tablespoon at a time if the dough is not pulling away from the side of the bowl.
DO NOT OVER MIX! It takes less than 5 minutes total mixing time for this crust, and that's what gives it the wonderful biscuit texture!
Transfer dough to a glass or ceramic bowl and let it rise for 4 hours. (I put it in the oven and leave the door open. The light from the oven is enough heat for the rise!) You can use the dough at this point (if you're in a hurry), but you'll get a much better texture and taste if you refrigerate it. Refrigerate (covered with celephane wrap) for 24-48 hours. Remove from fridge and allow dough to come to room temperature (took about 2 hours for me). Weigh the dough. Separate approximately 1/3 of the dough for the top skin.
(When you start to roll the door…pre-heat your oven to 450 degrees! You want the oven really hot! If your baked goods tend to burn on the bottom, put a stone in the oven during the pre-heating and you'll put your pizza pan right on top of the stone.)
Roll out the larger dough ball. You shouldn't need any flour on the surface as this dough has a high oil content and doesn't stick! Roll the dough very thin. You should have about a 15-16 inch circle.
Generously butter the bottom of your pizza pan, plus butter half way up the side. Place your crust in the bottom of the pan and "tuck" it into the bottom edges, with the crust coming up the sides and hanging over the top. It should drape at least 1 inch all the way around your pan.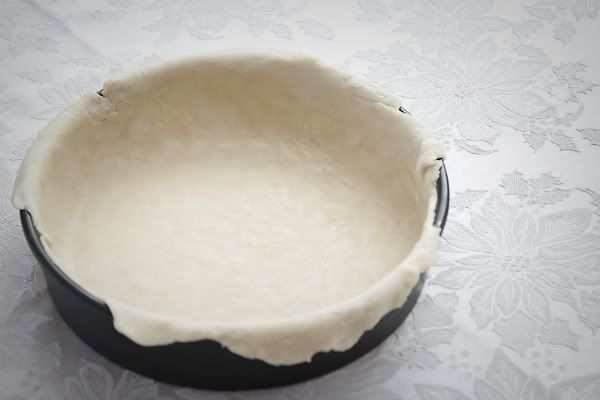 Pizza Sauce (See the notes at the end about the ingredients)
5 cups 6-in-1 All Purpose Ground Tomatoes In Heavy Puree (See Notes At The Bottom)
2 teaspoons Sugar
2 teaspoons Kosher Salt
2 teaspoons Crushed Fresh Garlic
3 Tablespoons Penzy Spice Pizza Seasoning (See Notes At The Bottom)
In a large pot, combine the 6-in-1 tomatoes, sugar, salt, crushed garlic and pizza seasoning. I like to use an immersion blender to break up any tomato chunks, but you can whisk it together by hand, if you want! Don't cook this…just mix it up and set to the side!
Now, start assembling your pizza! Remember, this is stuffed, so there's a reason for the order!
Cheese and possible toppings
12 ounces, weight Whole Milk Mozzerella Cheese (See Notes At The Bottom)
Toppings list (pick your own, but here's some suggestions. Don't cook any of it in advance unless noted.)
Sweet Italian Sausage
Canadian Bacon
Pepperoni
Ground Beef
Black or Green Olives
Onions
Spinach
Pineapple
Green Peppers
You already have your bottom crust in the pan. Now, put in your "toppings"one layer at a time. If you are using sausage, you want this in the bottom so that it's closest to the heat. Don't pre-cook the sausage! Place the sausage followed by other meats…pepperoni, Canadian bacon, etc. Then, veggies on top of that. Follow the veggies with your cheese. Yes, the cheese goes on top of all of this! Don't short change the cheese!
Now that you've built the stuffed part, roll out the remaining dough (this is the 1/3 that you put off to the side). You want to roll this out extremely thin. It should be almost transparent. Roll this out to be about 11″ around. Lay this top "skin" on top of the cheese and up so that it extends about 1″ all the way around your pizza pan. Pinch the two doughs (your bottom crust and top skin) all the way around the pan (around the top edge) to seal the crust. Using your finger, pull open about 8 holes in the top skin. No need to be fancy! I just use my finger and pull open some holes. This will release the steam and keep the top from bubbling. Double check the crust to make sure that it's still sealed and that you didn't pull it apart when you were poking holes!
Pour 2 large ladles of sauce on top and swirl it around to cover the top crust. I know it sounds strange, but this kind of seals those top holes so that the sauce doesn't run down into the pizza. After you've swirled, pour 2 more ladles of sauce on top to give it a nice top layer of sauce.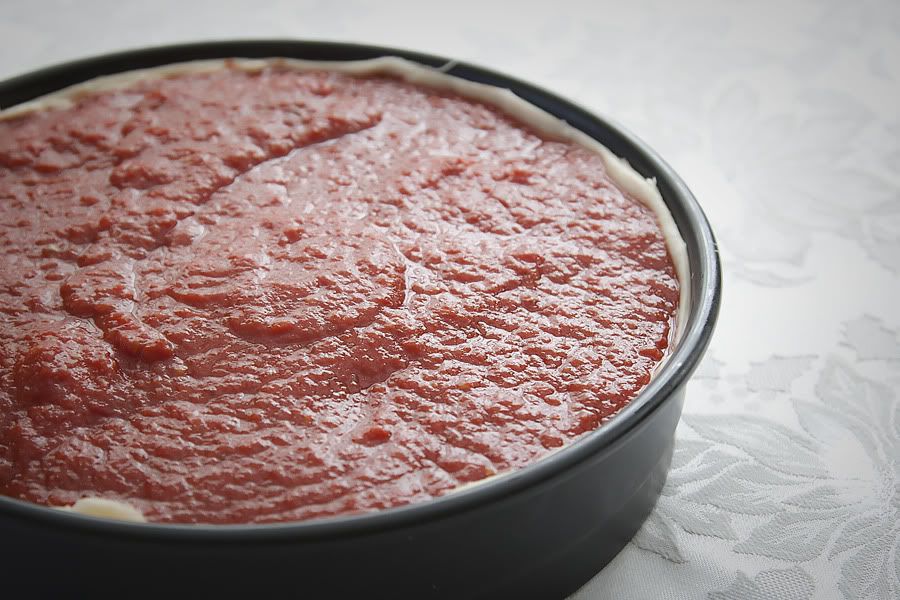 Use a sharp knife and trim the excess crust at the top outer edge of the pan.
Place in a 450 degree oven for 30 minutes. If your oven heats from the bottom, use a stone under your pizza pan to keep it from burning on the bottom. I usually check it at 25 minutes to make sure the top edges of crust are not over cooking. If the top edges look like they are browning too fast, lay a piece of foil on top.
You want to bake until your crust is a golden brown. Remove the pizza from the deep dish pan and onto a cookie cooling rack. Let sit for a minute or 2 and then cut into 6 or 8 slices and serve!
***NOTES FOR WHAT I USE AND WHY…
6-in-1 Tomatoes in Heavy Puree is the sauce I use. It does not contain any citric acid at all and is pure sweet tomatoes. Bottom line…the very best and you can tell that with one little taste right out of the can! They are hard to find, though! You can purchase the #10 (HUGE) cans at Costco Business Center (not the regular Costco stores). Or, you can order them directly from Escalon (http://www.escalon.net/6in1.aspx). Shipping is reasonable and actually comes out to less per can than most stores!
Penzy Spice Pizza Seasoning – A very good mixture and the Penzy Spices are amazing! You check online for a location near you, or you can order directly from them at www.penzeys.com. But, this Pizza Seasoning mix is the perfect blend.
Cheese – You can get away with 10-12 oz. of Whole Milk Mozzerella. I actually blend my cheese. I use about 5 oz. of Whole Milk Mozzerella, 4 oz. Provolone and 3 oz. of skim (or low fat) Mozzerella. I also grate it fresh as opposed to packaged (because they use preservatives in the pre-grated to keep it from sticking to itself, which keeps it from melting in a creamy consistancy). This is the minimum of cheese to use. I've used up to a pound, total, before. It depends on how full your pizza is from the other ingredients.
The first pizza you take out from you pan will probably crack when you remove it (normally on the side). It's because we try to be too careful when taking it out. Don't worry…make this a few times and you'll be a pro at getting it out of the pan!
I took the extra sauce and warmed it on top of the stove while the pizza was baking for anyone that wanted some extra sauce on their pizza. Just a nice small ladle of warm sauce on top!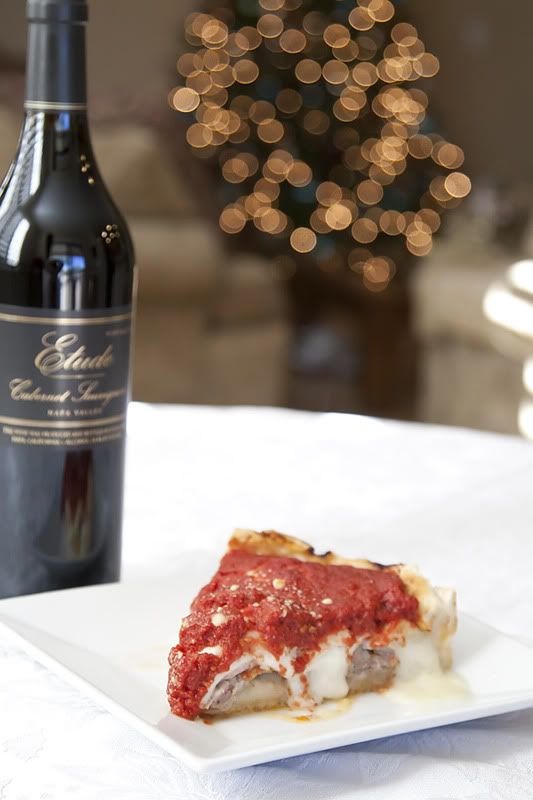 A nice cabernet is the perfect match with your Chicago Stuffed Crust Pizza! Salute!