Banana bread is not on my diet. Nope, not at all. But don't we all deserve to be bad once in awhile? Especially on a Friday night? The bad news is that yes, I made banana bread. The good news? I took half of it to my parents, so I'm only being half bad. hee hee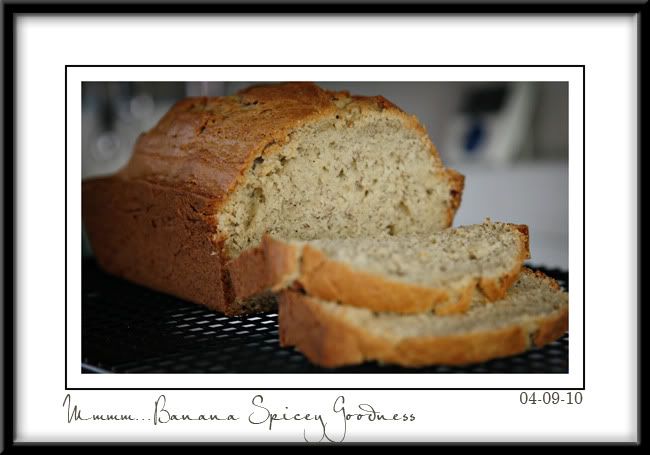 Here's the recipe, just in case you find you have a couple of bananas laying around. Also, you can add walnuts, pecan or almonds if you want added nutty goodness (about a quarter cup of nuts). Also, when I'm feeling feisty, I'll add in 1/3 cup of cranberries. Yummy goodness and the splash of red is just simply a happy thing!
Banana Bread
Ingredients
1 3/4 cups all-purpose flour
2 teaspoons baking powder
1/2 teaspoon baking soda
1/2 teaspoon salt
1/2 teaspoon ginger, ground
1/4 teaspoon allspice, ground
1/4 teaspoon nutmeg, grated
1 teaspoon grated lemon zest (optional)
1/4 cup almonds, pecans or walnuts ground (optional)
1/2 cup butter or margarine (that's 1 stick)
3/4 cup sugar
2 large eggs
4 medium ripe bananas, mashed (I normally use 2-3 for a more mild banana flavor)
Directions
1. Preheat oven to 350°F.
2. Grease 9 x 5 inch loaf pan.
3. Sift flour,baking powder, baking soda, salt, ginger, allspice and nutmeg together in bowl.
4. Add lemon zest and almonds.
5. Stir until combined.
6. Set aside. Beat butter in large mixing bowl until soft and creamy.
7. Beat in sugar until light and fluffy.
8. Add eggs and beat until thoroughly blended.
9. Beat in flour mixture alternately with bananas until mixture is well blended.
10. Pour into prepared pan.
11. Bake in center of oven 1 hour to 1 hour 5 minutes, or until toothpick inserted in center comes out clean.
12. Cool in pan on wire rack 10 minutes.
13. Invert from pan and cool completely on rack.
And, because I am on a diet and know that many have dietary restrictions, here's the nutritional information for the bread! Now, don't you feel better about it?
Nutrition Facts

Serving Size 1 (107g)
Recipe makes 8 servings
Calories 318
Calories from Fat 118 (37%)
Amount Per Serving %DV
Total Fat 13.2g 20%
Saturated Fat 7.8g 38%
Monounsaturated Fat 3.5g
Polyunsaturated Fat 0.7g
Trans Fat 0.0g
Cholesterol 83mg 27%
Sodium 414mg 17%
Potassium 152mg 4%
Total Carbohydrate 46.6g 15%
Dietary Fiber 1.5g 6%
Sugars 22.4g
Protein 4.8g 9%