I haven't blogged much lately. It's been a pretty busy summer with an extremely crazy week...and one that I will likely never experience again.
I decided to blog about the last 4 days because of what I have read in the papers and online about Arizona, Phoenix, SB 1070 and the people of Arizona.
According to AP reports and newspaper articles, including the Arizona Republic and one that I read in a North Carolina paper, the number of protesters on hand (when Judge Bolton ruled) on Wednesday was hundreds. Reality? Three. Yes, there were three of them at the Federal Courthouse.
How many protesters were there on Thursday at the Courthouse, Madison Street Jail and Capitol? According to the press wires, there were thousands taking to the streets. The reality of it is that there were around a twelve hundred (maybe 1500) total. Probably 700 at the jail (and 500 of those were bussed in from LA) with approximately 500 spread out between other downtown areas including the Capitol and the Courthouse.
At the rally on Saturday evening (Standing With Arizona rally), the press reported and covered the 15-20 protesters. Those 20ish people received lots of ink in the papers. They didn't bother to mention the 500 or so that were a part of the rally in support (despite the fact that it rained all day...up until about 15 minutes prior to start time).
I do understand bias in the media. I don't necessarily agree that it should happen. Isn't the job of the media to report the facts and let us form our own opinions? But, even with bias, the facts are the facts. Numbers are facts and if they can not report that accurately, how much of the rest is misinformation?
As I said, I was downtown for the events as they unfold. If you aren't interested in my opinion, feel free to look at the photos and (hopefully) understand the emotions involved.
Wednesday July 28, 2010
Ruling issued on Arizona SB 1070 by Federal Court Judge Susan Bolton
Arizona State Capitol Building
There were very few people at the Capitol. There was a small gathering of people protesting on the House Lawn.
The Federal Courthouse where Judge Bolton heard and ruled on the cases of
The ACLU vs The State of Arizona and Governor Jan Brewer
and
The U.S. Dept. of Justice vs The State of Arizona and Governor Jan Brewer
.
The Attorney for the Prosecution representing the Department of Justice.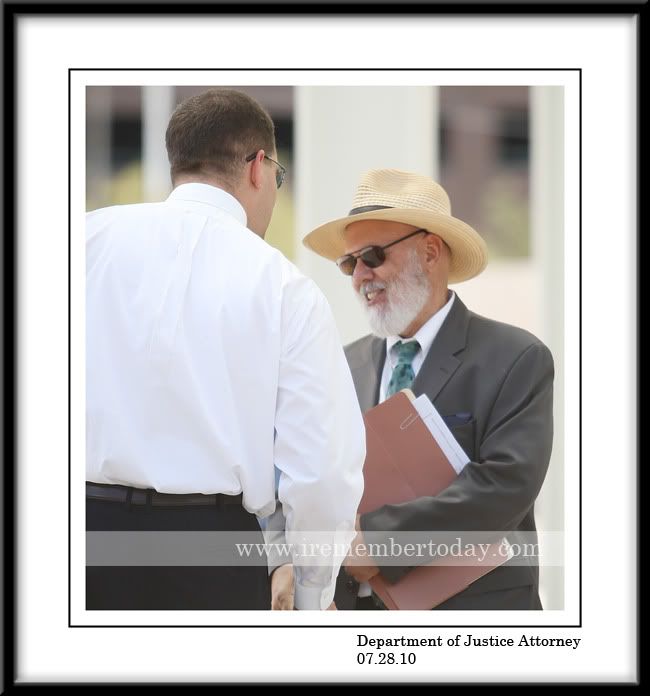 The reading of Judge Bolton's decision outside of the Courthouse.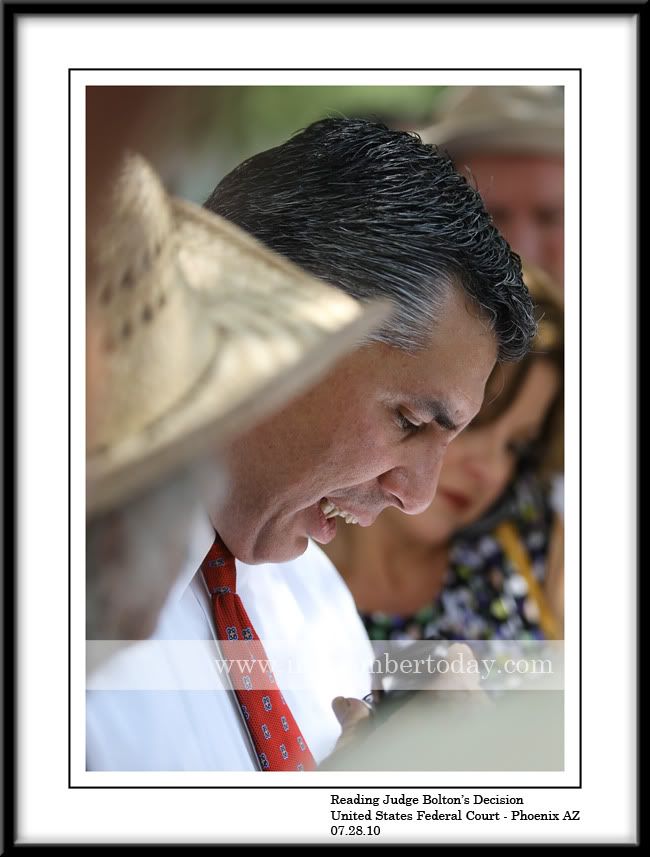 One of the approximately 30 protesters outside of the Capitol building following the ruling.
The cases have already been appealed and will be heard at the 9th Circuit Court of Appeals in San Francisco. Governor Brewer requested an expedited hearing because of how this is affecting Arizona, both financially and emotionally. The request was for September. The Court set the date for November, ignoring the Governor's request. It is my personal opinion that this is a political move and it would not surprise me, in the least, if a date suddenly opens up around November 2nd or 3rd (election day). Really, their decision will matter only as support for this case as it will go to the Supreme Court. There is no doubt in anyone's mind that this will happen.
Thursday July 29th, 2010
The day the ruling was expected with protests scheduled throughout the state.
I was down by the Madison Street Jail. There were a couple dozen protesters arrested early in the day, mostly for blocking the roads, that were being held in this building.
You can interpret the photos however you'd like. I was there experiencing it and can only tell you what I saw while down there.
These are some angry people. I understand that they are afraid of friends or family being deported. I know that they have fears. But, the bottom line is that this country does have borders and laws to be followed. We, as a country, should expect our Federal Government to do their job and enforce the laws of this land. They need to defend and protect our borders and uphold our Constitution. That is their job. That is what they are payed to do. That is what they were elected to do. And, that is what they swore to do when taking their oaths of office...whether they are the President, Congress, State officials or Law Enforcement. We the people should expect nothing less and should receive nothing less from this officials.
The drum beats set the tone for the afternoon at the Madison Street Jail.
Police and spectators view that activity from buildings throughout downtown Phoenix.
Maricopa Country Sheriff's Department protecting the streets of Phoenix following Judge Bolton's ruling. The Sheriff's Department and Phoenix Police, including the riot squads and Mounted Patrols arrested approximately 75 people over a three day period for public disturbance.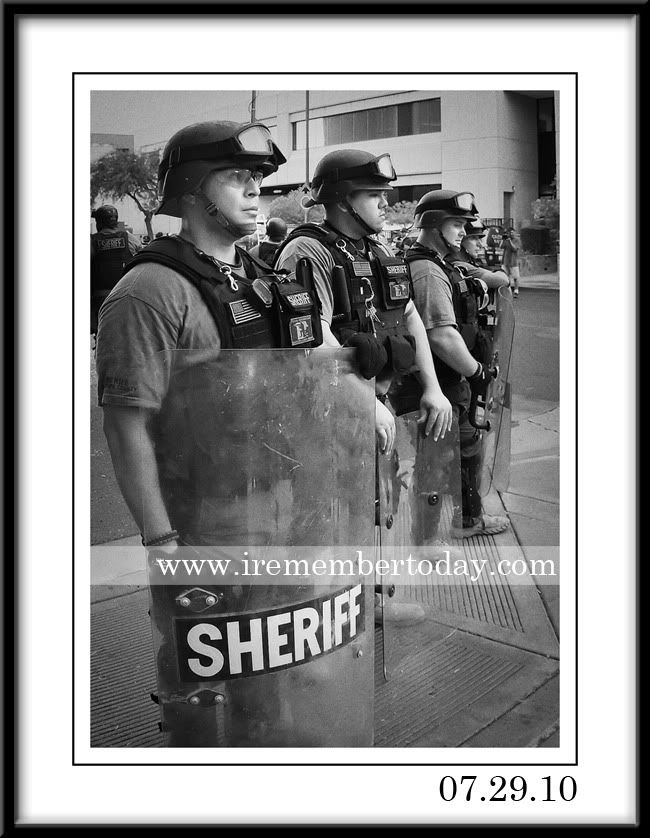 Sheriff Joe Arpaio and the riot patrol receive a reaction from protesters following a brief altercation.
Friday July 30, 2010
Candlelight Memorial Service
Friday night was a memorial service for Law Enforcement and Arizonans that have lost their lives at the hands of those in this country illegally. It was quite a somber service with a procession that was led by a bag piper from the Capitol and through the various monuments in Wesley Bolin Plaza.
Rev. Wayne Perryman began the Memorial Service with a moving prayer.
Senator Russell Pearce and Ted Hayes begin the candle lighting.
While the Sheriff's Office Chaplain delivers a prayer for those fallen (taken far too early) at the hands of illegals, protesters gathered on the sidewalk.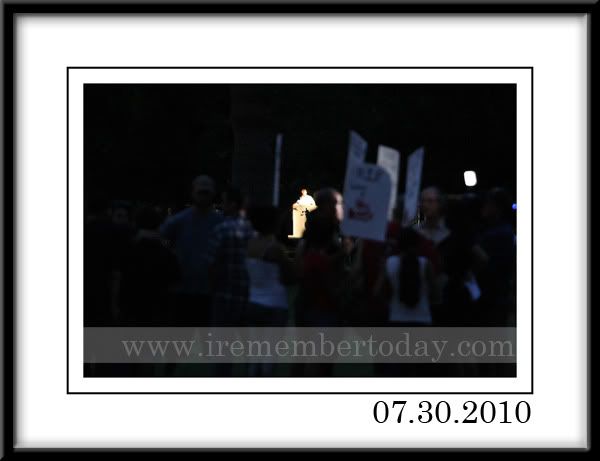 During the candle light walk, protesters followed along side. Two were arrested at that time.
We don't have to agree with each other's views. It will never happen on any issue at all. But, in order for things to progress, we need to understand and respect where the other sides come from. For me it is difficult to respect anyone (no matter their opinion) that does not respect the families of those we have lost under any circumstance. These individuals, that felt it was proper to intrude in a very solemn moment, are no better than hate groups that feel it is right to protest a military funeral. There are just some things that you don't do.
Saturday July 31, 2010
Stand With Arizona
There was a Summit sponsored by Senator Pearce through the whole day. There were experts in various fields of law, statistics, civil liberties, diverse communities and more. This was for a very small group and media was not present...at all! This wasn't a show for media, it was simply an educational experience for everyone that was there.
For those that could not attend, here are the speakers that you missed out on...
John Eastman, Patrick Charles, Michael Cutler, John Martin, Wayne Perryman and Mason Weaver, John Martin, Maureen Wood, Fernando Trevino (a 19-year old Hispanic student from Texas...very VERY well spoken young man!), Chad MacDonald and Michelle Malkin. Originally, she was supposed to do a Q&A via satellite, but she came in person. If you ever have the opportunity to listen to Michelle, let alone ask questions of her, DO IT! She is extremely intelligent and very well spoken!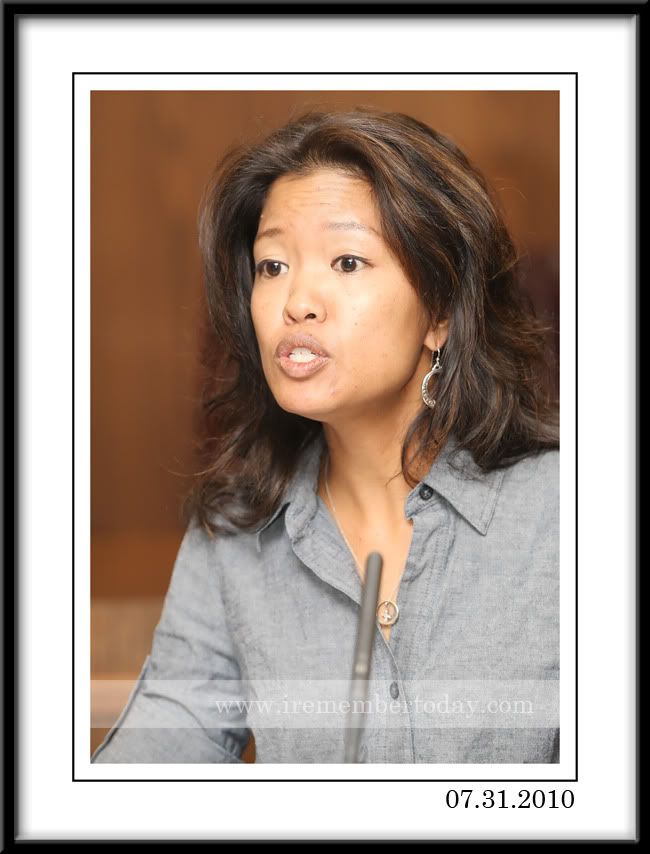 Following the National Immigration Policy Summit was a rally on the Capitol Grounds. Mike Broomhead of 550KFYI emceed the event.
This gentleman (I'm sorry, I don't have his name) sang the National Anthem...including the seldom sang second verse. He has an amazing voice and sang with so much emotion that everyone around would, and should, take notice and feel it in their hearts.
Unfortunately, while he sang, there were protesters on the sidewalk (next to the Senate grounds where the rally was being held) that felt they had more important things to do. Now, I have no issues with differing opinions. Afterall, isn't that what this Nation is about? Freedom? But, I just simply do not understand how anyone can desecrate our flag. This is a symbol of our country. It is a symbol that men and women have died for in the past and are currently laying their lives on the line for to this day.
I think that the thing that confuses me the most is that the protesters don't want illegals deported. They want the borders open so that people can freely waltz right in. So, if this country is such a great land of opportunity that people are willing to break the law to be here, why would anyone then destroy that very symbol of freedom?
And, like I mentioned with the Thursday photos, they do this with so much anger and bitterness. If we are such a bad nation and it makes them this unhappy, maybe they should consider their options. Then again, their options would never tolerate this kind of disrespect for the flag, the government, the people nor the opportunities available. Rather than protesting in this manner, they should be thanking their lucky stars that they live in a country where they have this kind of freedom.
I didn't take many photos of the protesters. This was not their night. It was a night for supporters who have been relatively quiet in their support. But, on this night, hundreds joined together with a unified voice. These people are not against immigrants. In fact, many at the rally are just that. The one sentiment that was echoed over and over is that it is time to enforce the immigration laws. Illegal is not defined by skin color nor by language. Illegal is defined by the lack of documentation that allows you to be within these borders legally. Quite simply...it is breaking the law. Supporters had their own signs, but more importantly, this lack of bias is shown in the faces of the crowd.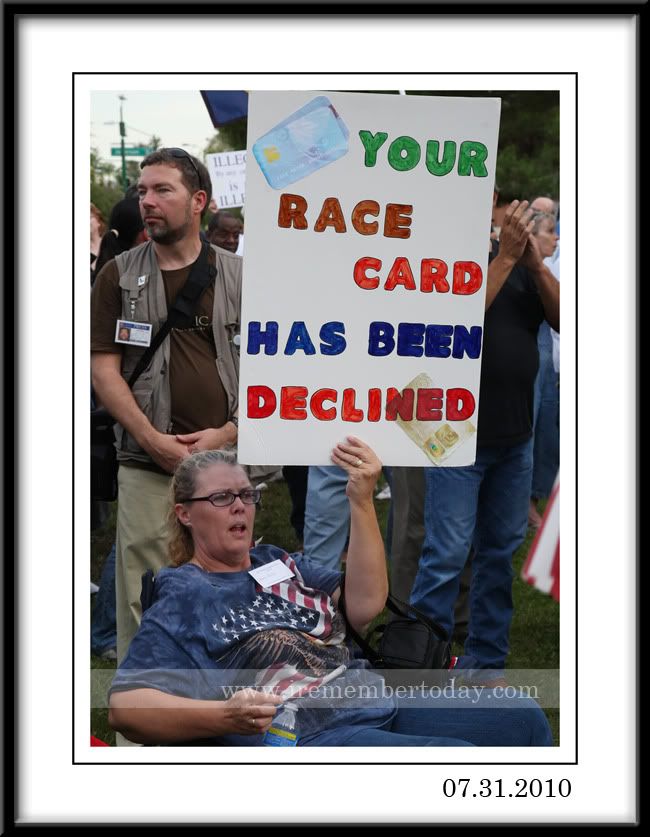 Isn't this a beautiful group? Ethnic backgrounds and diverse cultures with one common thread.
It rained all day long in Phoenix. But from the start of the rally until the end, the rain stopped. I like to think of it as divine intervention. Someone upstairs was going to make sure that the show went on. I think this sunset is proof of that!
And, just in case anyone is interested, this was my favorite sign of the night. Yes, I spoke with him. Yes, he really did graduate from Harvard. Really, this one made me smile and in my heart...a little more hope!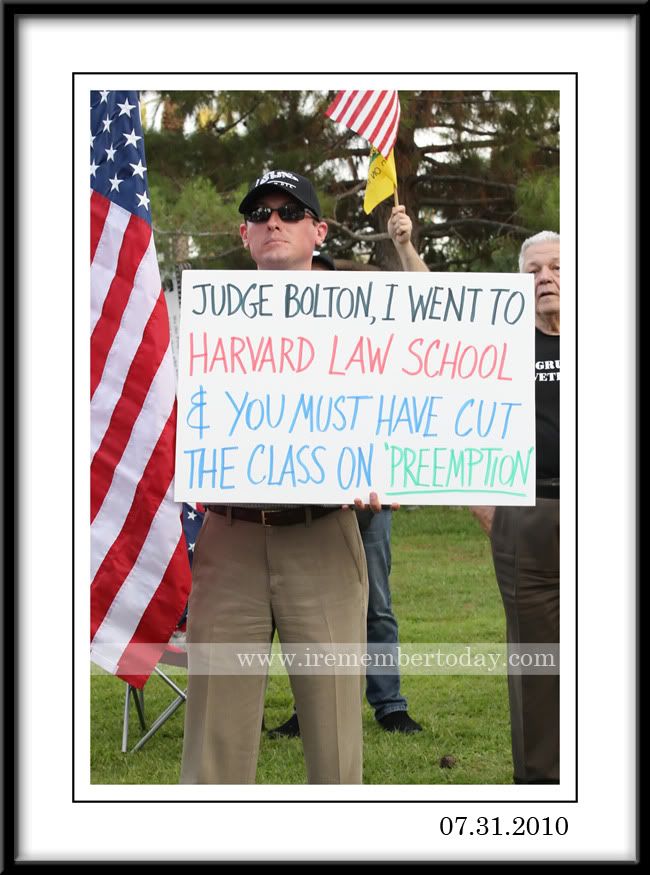 There were so many speakers and I do have shots of each and every one of them. I'll be uploading them all in a few days. Just so I don't make anyone feel left out, I'll not post the speakers here. Although, since there were some locals that are running for office (including one that I've known personally for 6 or so years now), I'll close out this epic blog entry with shots of them.
Senator Russell Pearce, Arizona State Senator
Senator Pearce and Congressional Candidate Sam Crump.
Senator Pearce, J.D. Hayworth (Candidate for U.S. Senate) and Ted Hayes (Political Activist)
Back to the title of this blog entry...I may not be a professional journalist by any stretch of the imagination, but I hope I have shown the truth of the last four days through these photos. It's a truth that seems to have been missed by those that have written article appearing in major publications. Maybe the biggest difference in our "perspective" of this truth is that I am not making any money in my version. I wasn't paid to cover any of this. I'm not selling a story, nor am I selling a photo. It is not my job to distort anything to make a dime or a dollar.
Then again, if facts and an acurate story were presented, people my actually form their own opinions through reading rather than buying an opinion for fifty cents at the morning news stand.
If you made it to the end of this epic post...Thank You for reading and looking! Comments (whether about the photos or the content of this post) are welcome. You do not have to agree with me and I have no problem defending my thoughts, but I will delete any comments with any racial undertones or any that are inflamatory. Sorry...my blog, my rules. :) Thanks for understanding!